Ditch the ad agency! DealerWebsites.com will help you set up Facebook Auto Inventory Ads for FREE with any paid plan.
You pay for your ad spend directly with Facebook with absolutely no markup. The minimum budget is only $5.00 per day with CPCs as low as .15 ea..
Facebook Auto Inventory Ads
Facebook Automotive Inventory Ads are fully automated ads that are optimized for Facebook users actually in the market for a vehicle. Auto Inventory Ads use your vehicle catalog, Facebook pixel and user engagement on Facebook to show ads to specific in-market shoppers within a radius of your dealership
Unlike Facebook Marketplace alone, Auto Inventory ads are proactive, and Facebook will show your inventory to users looking for similar vehicles across all of Facebook's destinations, including Facebook Marketplace.
Once set up, the process is fully automated and dealers can simply adjust their ad spend, and start, pause, and stop their ad campaigns anytime.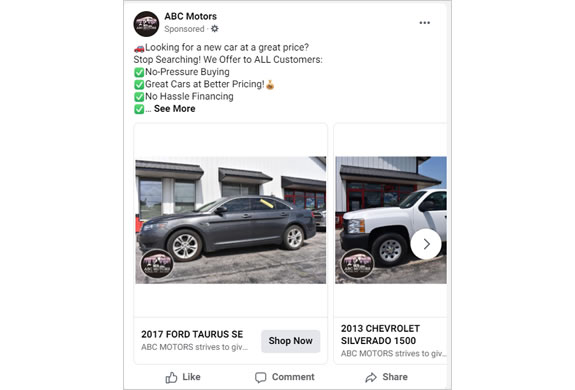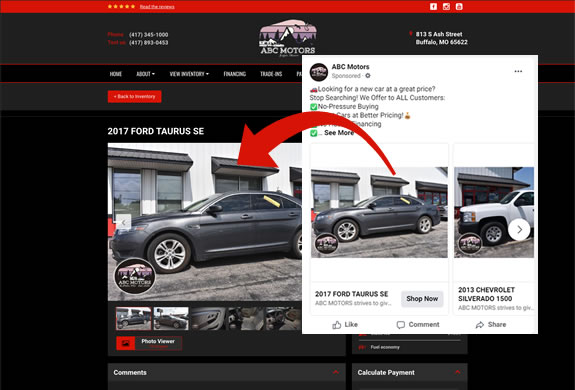 Drive Targeted Traffic to your VDPs
Unlike most automotive marketplaces, Facebook Auto Inventory ads can be set up to drive targeted traffic to your dealer website, where you can control the car shopping experience. When a user clicks an ad for more details, the user can be directed to the VDP (vehicle detail page) for that specific vehicle.
Once the user is on the VDP of your dealer website, he can then be prompted to view your other vehicles, schedule a test drive, fill out a credit app, etc.
Even a minimum ad spend of $5.00 per day can drive hundreds of unique, in-market visitors to your website per month.
On-Facebook Destination Ads
As an alternative to drving traffic to your VDPs, dealers can opt for On-Facebook Destination for Automotive Inventory Ads instead, which directs users to a mobile-optimized shopping experience on the Facebook platform.
When a shopper clicks on an auto dealer's ad, they'll land on a dynamic Vehicle Detail Page (VDP) on Facebook that's created using information from the dealer's auto catalog. From this VDP, shoppers can research vehicles, discover additional inventory and connect directly with dealers via Facebook Messenger, lead , phone call or by visiting a dealership in person.
Facebook Destination for Automotive Inventory Ads offer a frictionless shopping experience, which eliminates the possiblity a user might experience frustration by being directed off the Facebook platform.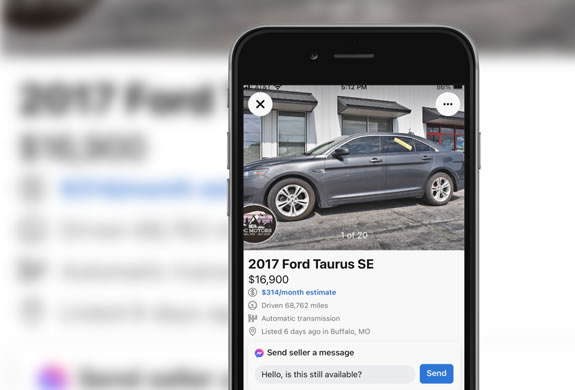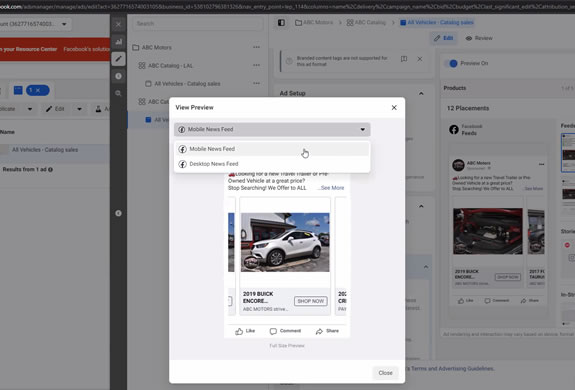 *Free Ad Set-up and Consultation
Although Facebook has automated nearly every aspect of their Automotive Inventory Ad platform, setting up an automotive catalog, formatting ads, audience targeting, etc. can still seem daunting to most dealers. * Now with any paid website subscription plan, one of our Facebook Ad Experts will help you set up your Facebook Inventory Ad campaign without any additional fees.
Facebook has also added a new feature for car dealership business pages to showcase their vehicle inventory. We are glad to help with your Facebook page and adding the Inventory tab as well. We also offer an integrated graphics app with editable templates for Facebook covers, and more!
Live Chat Messenger Integration
In order to make the most of the increased traffic to your website and Facebook pages, it is highly recommended to respond to leads directly with Facebook Messenger. However, if you are using or want to use live chat on your dealer website as well, managing and staying logged into multiple apps can be a pain. The ideal solution is live chat with Messenger integration.
DealerWebsites.com is an affiliate for LiveChat.com, one of the most popular and affordable live chat solutions on the market. And LiveChat.com has a seamless Facebook Messenger integration, allowing you to answer customer inquiries from your website and Facebook pages with one integrated app.
LiveChat.com costs significantly less than "automotive" chat providers, with prices starting at only $16.00 per month. Sign up for a 60 day trial here!