DealerWebsites.com exports vehicle data and photos to most major advertising platforms.
All paid plans includes inventory exports to nearly every free and paid 3rd party auto marketplaces, vendors, and applications.
Facebook Advertising
At this point in time, it is fair to say that Facebook is the hottest platform for car dealers to reach prospective customers. With 73% of U.S. adults visiting Facebook each day, it is easy to see why. What you may not realize, is that Facebook advertising is extremely affordable. We are seeing dealers reaching huge volumes of customers for as little as .15 to .20 CPC (cost per click).
Many automotive advertising agencies are recommending dealers prioritise Facebook advertising over traditional auto classified marketplaces. Our recommendation is for independent dealers to advertise on Facebook at least with the minimum budget of $5.00 per day. And with DealerWebsites.com, our Facebook ad experts will help you set up automated Facebook Inventory Ads at no additional charge. Click to read more about our Facebook Advertising.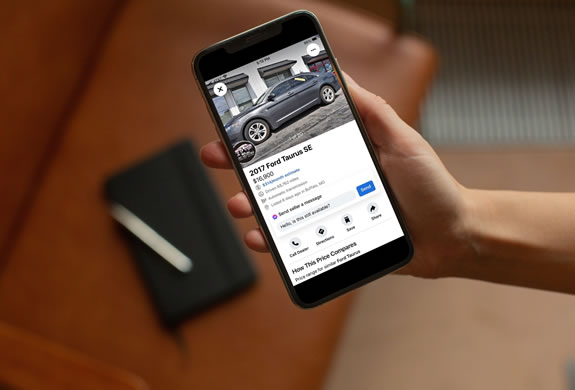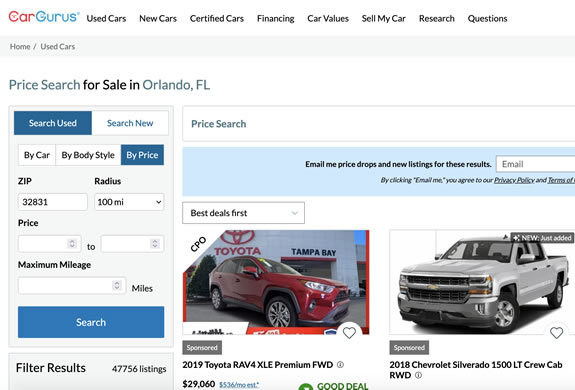 Exports to Auto Marketplaces
Add a vehicle once and you're done! DealerWebsites.com will export your vehicle data and photos to the most trafficked auto classified websites such as Autotrader,com, Cars.com, and CarGurus, as well as dozens of other paid and free automotive marketplaces,
And unlike some other dealer website providers, there is never a charge for exporting inventory, even for custom exports.
We are automotive data experts! DealerWebsites.com has been building dealer websites and exporting inventory for dealers for more than a decade. Your inventory will be exported like clockwork, and your newly added vehicles will be in front of new prospective buyers as quickly as each 3rd party auto marketplace will allow.
Exports to other 3rd Party Vendors
DealerWebsites.com also exports vehicle inventory to extremely popular marketplace apps like OfferUp, and dozens of 3rd party vendors and ad agencies that provide advertising and ad posting services.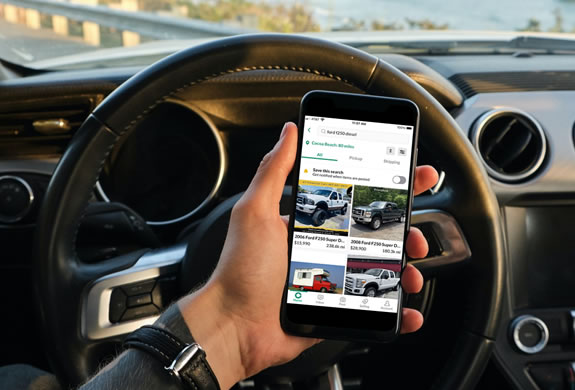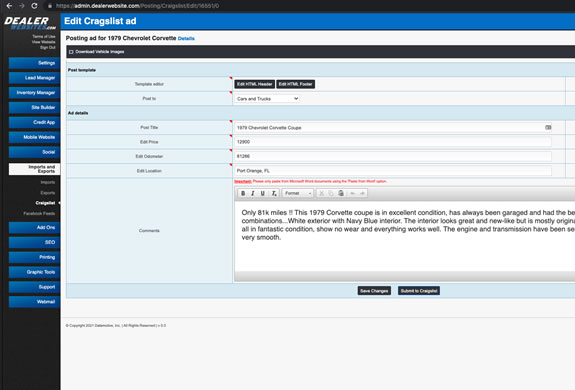 Free Craigslist Ad Posting Tool
DealerWebsites.com integrates with many 3rd party vendors who provide Craigslist ad posting services such as Hammer and Zen Dealer.
However, for budget conscious dealers who want to avoid any fees and markup, we also offer a free semi-automated Craigslist posting tool. Dealers can post ads in a couple of clicks and only pay the standard $5.00 posting fee directly to Craigslist.
You can see how our Craigslist posting tool works by clicking here: Craigslist Posting Tutorial